Welcome to Owl Forest Farm!

We are a small farm located in Forbes, Minnesota.

We grow a wide-variety of vegetables and herbs that are delivered to drop site locations each week. We are a subscription-based farm, where members pay in advance for a "Share" of what the farm produces in a growing season.

Our CSA season runs for 12 weeks, from July to October, p

roviding a bounty of produce delivered to a nearby designated drop sites in Iron, Virginia, Mt. Iron, Chisholm and Hibbing.

We also offer a variety of

cut flowers

.

Costs/Benefits: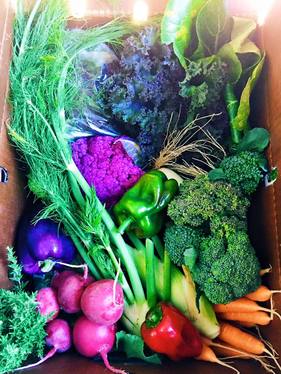 What do you get?
Each week, you get a 3/4 bushel box of organically-grown produce that is usually enough to feed a family of four. Half Shares are also available with delivery every other week. It is a goal to provide members with a wide variety of vegetables and herbs including:
Basil, beans, beets, bok choy, broccoli, cabbage, carrots, cauliflower, celery, chives, cilantro, collard greens, cucumbers, dill, fennel, kale, kohlrabi, leeks, lettuce, marjoram, melons, mint, onions, oregano, parsley, peas, peppers, potatoes, pumpkins, radish, rosemary, rutabaga, sage, savory, summer squash, Swiss chard, tarragon, thyme, tomatoes, winter squash, and zucchini.
Early in the season, the boxes contain a nice mix of greens including lettuce, bok choy, and kale, along with sugar snap peas, radish, and fresh herbs. Salads and stir fries are abundant from the first couple boxes. Then summer favorites start filling in, such as cucumbers,
green beans, Swiss chard, zucchini, tomatoes, peppers, onions, broccoli, and cauliflower. The fall boxes are heavy with a variety of root crops like carrots and potatoes, as well as cabbage and winter squash.
What do you gain?
You gain a bounty of healthy, fresh, organically-grown food to nourish your body. You gain the satisfaction of helping to support the local economy AND the natural environment. The farm complies with organic standards and practices. NO chemical pesticides or fertilizers are used and NO GMO seeds are used. You gain a personal connection with your food and the land on which it is produced.
What do you give?
You help support a local farm that uses sustainable practices. You share with us some of the risks involved in production, but you also share in the bounty of the harvest. Becoming a member of Owl Forest Farm is one good and significant thing you can do for your health, the local economy, AND the natural environment.
How to become a Farm Member...
---