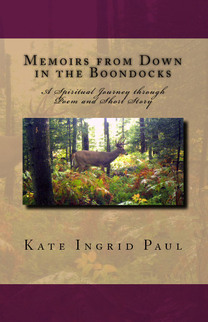 My book of poetry and short stories is finally published! I am very excited about this accomplishment. It is available on-line right now at
CreateSpace!
Between farming and everything else going on, I managed to finally complete this project, which has been a huge labor of love. I hope you enjoy it as much as I have enjoyed putting it all together...

Here is the basic description, in a nutshell:


'This enchanting book offers poetry as medicine for the soul... for spiritual practice and for healing. The words within become signposts to aid you in an inward journey to recover your true self and the deeper connections we have with each other and all of life. The author's journey back to the forest of her childhood and the lessons gleaned from the natural world become an invitation to explore your own inner landscape and to see the beauty and perfection that reside there. In the tradition of ecstatic poetry, the words in this book are transformative and help guide you back to the sanctuary of your Heart and the joy that awaits you there.'
I am truly blessed to be living one of my favorite poems of all time...
"Let the beauty of what you love be what you do" ~Rumi
Enjoy! And have a Blessed Holiday Season!
Kate